It was quite a day! Up bright and early for a 6am launch with Montague Fresh & Divine Fruit at Brisbane Markets, Rocklea.
Representing our family, Rosie  and John Savio plus Rosie's grandson Lewis ,were onhand to introduce Brisbane's fruit and veg retailers to Upple – Australia's first whole apple in a bottle! Made where it is grown, at our third generation family apple orchard on the beautiful Granite Belt, Upple unlike juice, is packed with whole apple goodness – fibre,vitamins & antioxidants and no added sugar or nasties!
Many thanks to the all the retailers for their enthusiastic response to Upple!! We are so excited to offer your customers a healthy,natural,delicious and convenient way to increase their fruit and fibre dietary intake. All in a 100% recycled plastic bottle (and recyclable!)
Thanks also to the fabulous Montague Fresh & Divine Fruits teams for a successful launch!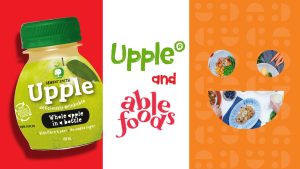 Upple is proud to supply our delicious drinks to Able Foods, a disability-led business delivering freshly made meals direct to...
Read More