Upple is proud to supply our delicious drinks to Able Foods, a disability-led business delivering freshly made meals direct to the doors of people living with a disability.
Able Foods was co-founded by 2022 Australian of the Year Dylan Alcott to help you tailor a champion diet for a healthier and happier life. All of their healthy, convenient and downright delicious meals are chef-prepared and dietitian-designed according to their Magic 8 Nutrition Guidelines.
Designed specifically for the needs of people with disability, the Able Foods menu takes the guesswork out of healthy eating. The meals can be funded through NDIS & Home Care Package and conveniently delivered directly to over 4,400 postcodes in VIC, NSW, ACT, QLD & SA!
As a part of their healthy meal plans, Able Foods offers Upple as a healthy way to increase your daily fruit intake in an easy to consume drink! Upple contains 99.99% whole, cored apples and stands alone in a new beverage category of drinkable whole fruit, offering a far higher fibre and nutritional level than regular fruit juice.
To create our innovative Upple drink, we spent more than a million dollars and three years researching and developing how to get both the apple skin and the pulp into a commercially acceptable liquid form. The end result is our deliciously drinkable Upple, the whole apple in a bottle!
Packed full of apple goodness that you can't get from regular juice, each Upple drink contains antioxidants, fibre and polyphenols from the apple pulp and peel. Enjoying an Upple is a deliciously fresh tasting and great textured drink that anyone can consume, even on-the-go!
What are 5 things that Upple and Able Foods have in common?
Reducing food waste
○ Upple is made from quality apples that fall just short of supermarket specification, that would otherwise be thrown away.
○ Able Food's prepared meals are perfectly portioned to ensure that there is no wastage.
Healthy food for all people to enjoy
○ Apples provide whole-body wellness, that's why Upple includes the juice, pulp and peel in our healthy drink!
○ Able Food offers 80+ chef-prepared specialty ready-made meals that are perfectly portioned, healthy and damn delicious
Texture modified
○ Upple provides all the benefits of a whole apples in a deliciously drinkable texture
○ Able Foods texture modified meals are IDDSI* compliant for 'minced and moist' and 'pureed' textures — without compromising on flavour, health or convenience.
No preparation required
○ Each Upple drink is as delicious as a fresh apple because that's all it contains! 99.9% whole apples, so you can get all the apple goodness on the go!
○ Able Foods' meals are ready to go in proportioned meal packs, just heat them up and enjoy!
Delicious and easy
○ Upple gives you all the nutrition of a fresh apple in a quick and easy drinkable consistency
○ Able Foods' ready-made meals follow the Magic 8 Nutrition Guidelines for healthy eating and can be ready to eat in 10 minutes!
To learn more about Able Foods, talk to their friendly experts today by calling 1300 123 2253 (ABLE). To order Upple online, visit Harris Farm Markets online or shop in-store near you https://upple.com.au/stockists/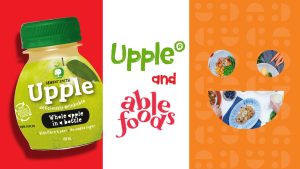 Upple is proud to supply our delicious drinks to Able Foods, a disability-led business delivering freshly made meals direct to...
Read More